Smooth solution for HoReCa suppliers
2 September 2020
EDER smooth solution have been supporting HoReCa suppliers all over Europe since 1988. EDER is the third biggest PTFE-belt manufacturer in Europe. Last year we've manufactured over 55 000 PTFE belts.
The continuous contact belt grill use the principle of continuous cooking / baking between two PTFE belts. They are perfect for browning, baking and Sous Vide products because they use intense heat conduction, reaching temperatures up to 260°C, both from the top and bottom of the product. Thanks to this, the product is not only nicely browned, but also baked "in its own sauce", which translates into less weight loss and higher taste values.
You can bake and grill on EDER PTFE laminated belts all boneless products, such as chicken and fish fillets, burgers, steaks, bacon and vegetables.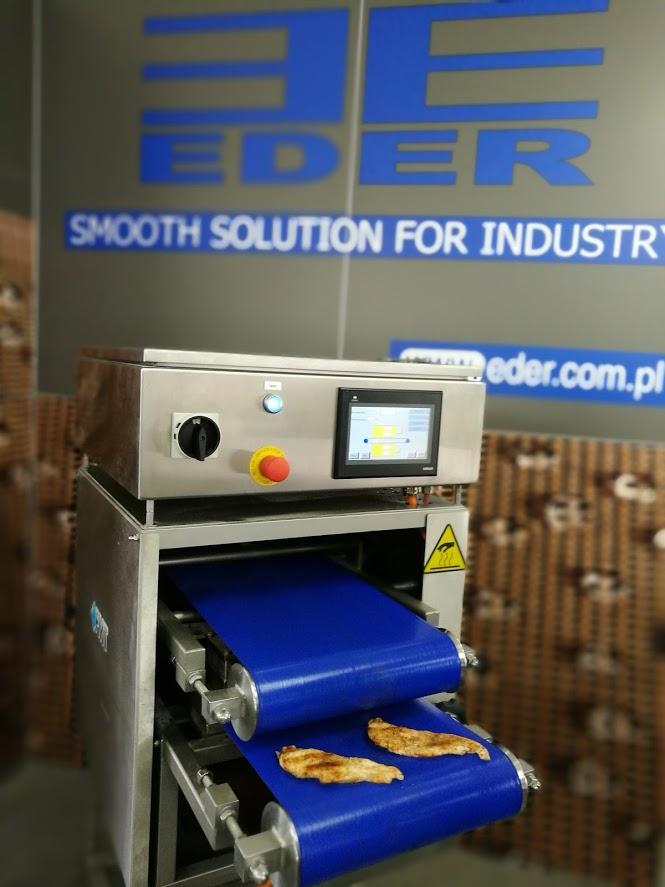 Our PTFE laminated belts have a special film layer on the surface, which acts as a physical, non-porous barrier preventing the penetration of fat, as well as marinades, into the structure of the PTFE belt. The technology we use significantly extends the life of the belt compared to competitive products, and the special system of connecting the belts significantly reduces the time to replace the PTFE belt. As a result, our customers receive PTFE belts that are ideal for harsh grilling and baking conditions. This method of baking is much healthier than deep-frying. Our laminate belts are also suitable for freezing fish and meat products.
Our PTFE laminated belts are suitable for belt cookers from Form Cook, Berief or Tefco.
We manufacture PTFE coated glass and aramid fabric belts. With over 30 years of experience and expertise among our specialised team of technical advisors and production workers as well as our selection of the finest materials available on the market, professional selection of joints, reinforcements and guiding systems, we supply our products to various branches of industry all over the world.
Our current technology of manufacturing and maintenance combines all of the cutting-edge solutions used worldwide. New machinery and appliances as well as 3 step quality process allow us to deliver the highest quality of product and maintenance, transforming our company from a local business to a global supplier on the PTFE belt market.
Our mission as EDER is to build long-lasting relationships with our clients by delivering top quality products.